Atari Bit Byter User Club - ABBUC e.V. - english
1

Status abbuc.de
1.1

New ABBUC Website

The new ABBUC website is now online at https://abbuc.de. Have fun with it. Here at https://abbuc.social you will still find background information about the ABBUC web services and information in case of problems with the main website.
1.2

Mag 145

The Magazine 145 (disc and paper) is on it's way and some Bit Byters already have the new mag in their mail.
1.3

Web-Server Maintenance

There will be Webserver maintenance work on the ABBUC Website this coming weekend (6th to 8th August 2021). There can be glitches and short outages. Please be patience.
1.4

New ABBUC Webmail Server

Users of ABBUC mail addresses with an ABBUC mailbox account (no forwarding) can now be able to read mail via web mail as well. The address of the new web mail server is https://webmail.abbuc.de/.

Users will receive access information for the new mailboxes in the coming days.
1.5

ABBUC Forum Archive

Mirko "atarixle" Sobe has spend many hours to make the content of the forum from the old ABBUC website available as a static page at https://www.abbuc.de/forum-archiv/

Steve is working on the new forum which is coming along well and will be available soon.
1.6

ABBUC Search Engine

For the new website we have set up our own (meta) search engine. We will use this search engine to provide a search function for the new ABBUC site, without sending your data to Google, Microsoft or other data collectors. The search engine is based on the open source project Searx: https://searx.me/

You can find this search engine (which does not only search ABBUC and Atari pages) at https://search.abbuc.de.
1.7

ABBUC Software and Hardware Contest 2021

Also in 2021 the ABBUC will organize a software contest and a hardware contest. Be there and submit a program - or hardware. How? Just have a look at our info page: https://asc.abbuc.de
1.8

Preview of the new ABBUC website

Steve has set up the new webserver and moved the contents of the old server. In some pages the HTML formatting still needs to be adjusted.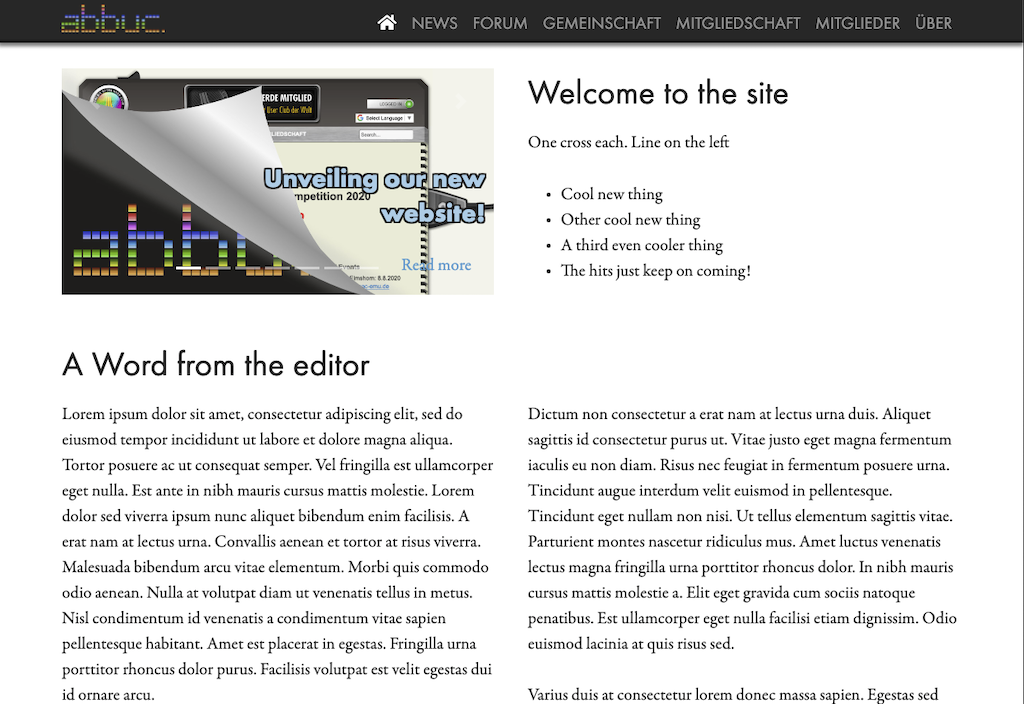 The new forum is installed and is being configured: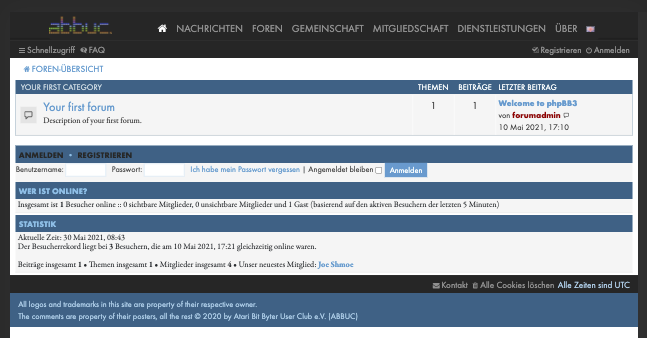 The new website is now also adapted for mobile devices: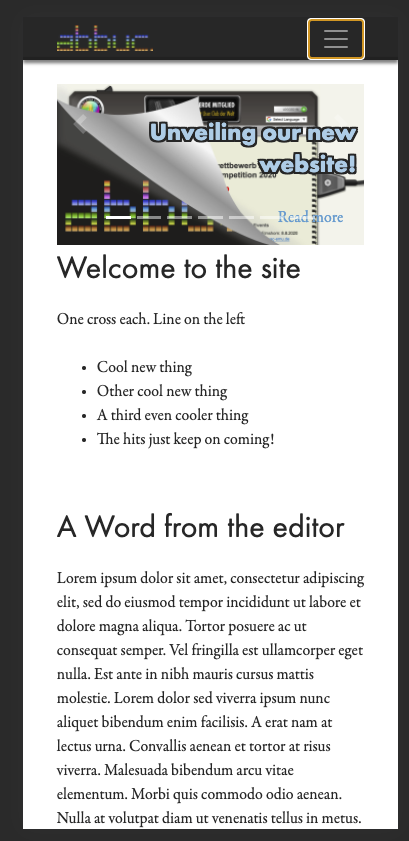 The new membership area: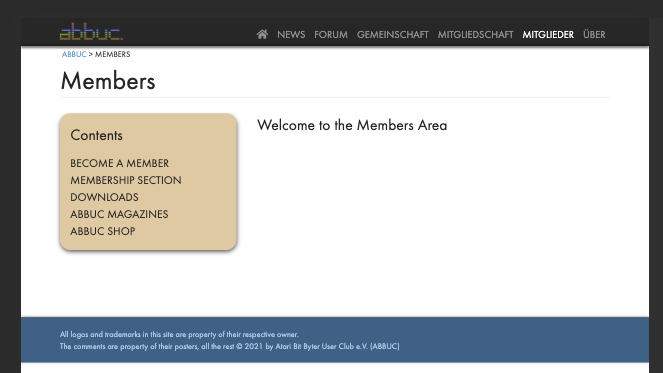 The new homepage in full view: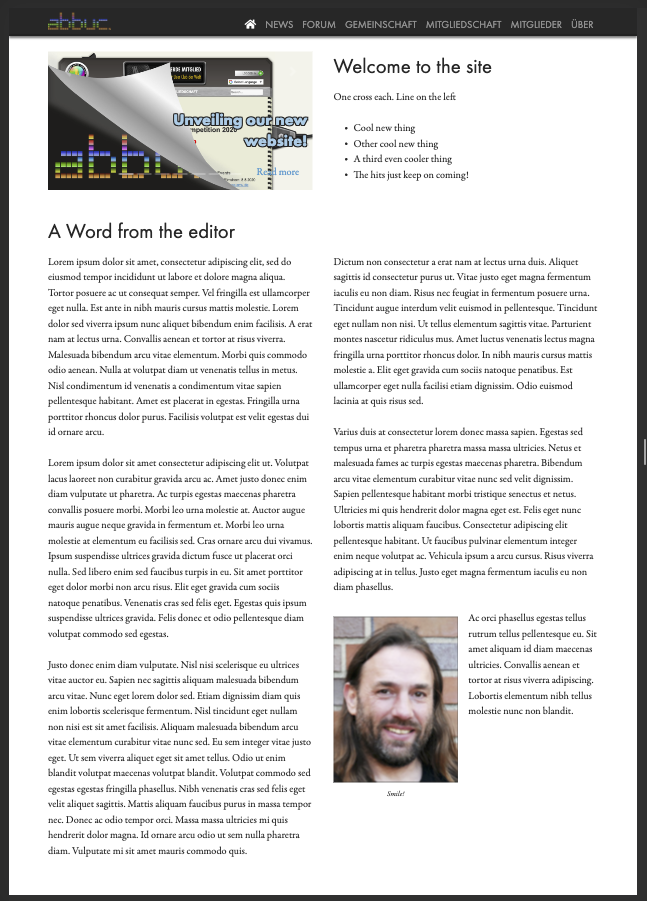 1st: Web server outage

The ABBUC web server has been hacked and infected with malware. It will now be physically taken offline and the old server will no longer go online, as the installed software is too old and cannot be cleaned from the malware with reasonable effort.

This does not catch us completely off guard, but a bit too early at this point. We have been looking for ways to get a secure, up-to-date system up and running since the beginning of 2020 and have already set up a test server on which various scenarios were tested, such as updating the current software. Since the ABBUC board has legal responsibility, we were looking for a solution that focused on security, DSGVO compliance and updatability. We are close to the beta testing phase where more members will be involved. This now needs to be accelerated. To keep the downtime as short as possible, we will now first work on getting the forum back up and running as soon as possible.

The technical basis is already almost finished, due to the time pressure that has now arisen, increased personal effort was put into getting the basis ready.

However, the new forum will start from "zero", as the transfer of all data proved to be too time-consuming and dangerous. However, the "old" forum is saved, and as soon as the new server is up and running, we will clean the data from malware and put it online in "read-only" status.

Technical help is not needed at the moment, if you can and want to help with the content, please contact us by mail to internet (at) abbuc de. However, since we now have to act quickly and in a targeted manner, we cannot answer every mail immediately, but are focusing on the things that are necessary to get back online quickly.

To make the site as modern and future-proof as possible, we need to lay a secure foundation. But the site will then "grow" together with you.

The board

2ND: JHV

Thanks to the support of Wolfgang Burger, the Bürgerhaus Süd in Herten on 16.10.2021 is booked for this years member meeting (JHV) under reservation. The reservation is based on the fact that currently no one can say for sure what the legal situation is for events of this kind in October. But we are optimistic and look forward to seeing many of you again in October.

3rd: Magazine #144

Against all odds, we have now bagged magazine #144 and will be putting it in the mail on Monday, 4/19. After the magazine is before the magazine: please send contributions (including announcements) of any kind for Magazine #145 to magazin@abbuc.de by 5/1/2021.

<2021-04-24 Sat 19:51>

The first ABBUC user homepages are restored: ABBUC User Homepages

<2021-04-21 Wed 08:15>

We were able to make a full backup of the ABBUC server. No data has been lost.

Next weekend (24/25 April) the ABBUC member homepages will be moved and available again. When the pages are back online there will be info here.

The ABBUC mail system and the ABBUC Nextcloud are on a different system in a different data center and are not affected by the security incident. These services are working as usual.

<2021-04-13 Tue 20:40>

The ABBUC server has been shut down following a security incident.

The Internet team is discussing next steps with the board.

More information on the status here at https://abbuc.social.

ABBUC Internet Team
2

Welcome to ABBUC e.V.

This is the (static) backup website of the Atari Bit Byter User Club e.V.. (ABBUC).